Access to the Clinic
Smile Hills Dental Practice NAKAMEGURO is located in a conveniet location that is a 2-minute walk from the West Exit of Nakameguro Station on the Tokyu Toyoko Line.
Before or after you come to the clinic, you can also enjoy the shopping around from Daikanyama to Nakameguro.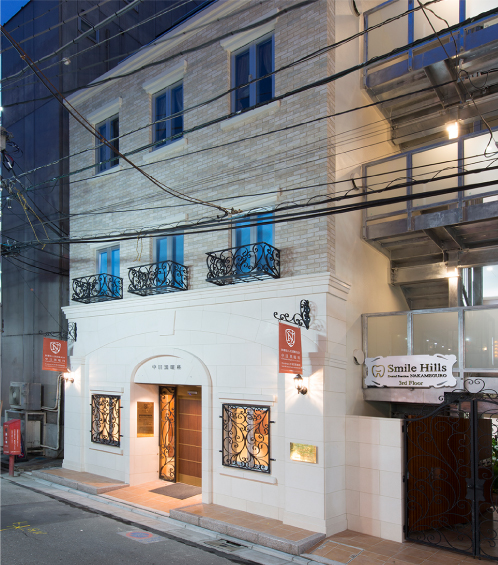 Medical Cooperation Eikoukai
Smile Hills Dental Practice NAKAMEGURO
Reneus Nakameguro building 3F, 3-7-7, Meguro-ku, Tokyo
(Bill 1F becomes Nakameguro Eye Clinic)
[For those who come by train]

2 minutes' walk from the West Exit of Nakameguro Station on the Tokyu Toyoko Line

[For those who come by car]

Please see the information on coin parking near Nakameguro Station below.

Access to Smile Hills Dental Practice NAKAMEGURO from Nakameguro station.
Take the "West Exit 2" and make a right.

Turn left at the corner of "City Bakery".

Go straight and turn right before the "Family Mart".

After a few steps you can see a white building on the right side. Be sure to look for a red flag.

Please go through the gate and take the elevator to the 3rd floor.
Privacy Policy
Protection of Personal Information Collected on the Website

Regarding our policy for personal information (information that can identify individuals), we comply with the Act on the Protection of Personal Information and other relevant laws and regulations. We strive to protect personal information by following these basic policies.

Collection of Personal Information

Concerning collection and providing personal information, we will do only notifying you as to the purpose and scope of the information used.

About Usage

The clinic will, with advance notification, use collected personal information only to the necessary limits.

Disclosure to Third Parties

We will not disclose collected personal information to third parties unless there is a justifiable reason.

Concerning Management

We will take safety measures within our means to properly manage personal information and protect it from loss, destruction, misuse, alteration, unauthorized leakage and unauthorized access from third parties.

Continuous Improvement

This clinic is committed to taking proper precautions when handling patient information. We adhere to the laws and regulations and will conform to any changes to these laws.